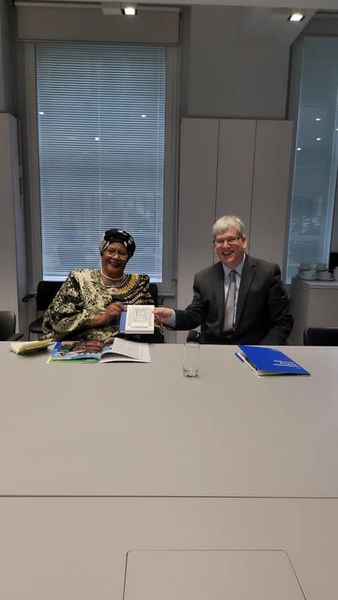 Having represented Malawi at the funeral of Her Majesty Queen Elizabeth II on the 19th September, I decided to spend one more day to have meetings that had been requested by organizations based here in London. I tirelessly continue to provide windows of opportunities that we can take advantage of as a nation during this global crisis. All I can do as former President is to seek these opportunities and offer. Those helping the president therefore can take the offers, ignore and/or decline. Yesterdays meetings have convinced me once more that just like my govt solved a similar economic crisis in 2012 ( no fuel for a day, no electricity, no food for 2million people, no forex), that although the root causes were different, we can begin the journey of easing the situation. In 2012 I started by ORGANISING the NATIONAL DIALOGUE ON THE ECONOMY resulting in priotizing Energy, Agriculture, Mining, Infrastructure and Tourism. Inspite of all challenges, records show that 2013/14 the economy grew by 6.2% as opposed to 2% 2011/12. This is recorded. Here we are, just like all countries of the world, passing through this economic crisis. I believe we can still look at traditional and non-traditional paths on our way to economic recovery. This is imperative. The meetings were as follows:-
1. I had a meeting with Bird & Bird. I am grateful to Mr Rodrick Kalumpha and Ms Mwadiwa who helped bring organisations together to join the meeting. Our High Commissioner to UK Dr Bisika delegated his deputy Justice Patemba to accompany me with our Trade Attaché. I am insisting that we must as a nation dive deep into bringing Investors to Malawi. Being a business person in export, I am convinced that Trade rather than Aid is a viable option that cannot be ignored. We could bring into Malawi a lot of forex that our government so desperately needs. I have found that there is too much opportunity for us to export especially agricultural produce. Our next door neighbor Zambia are exporting a lot of poultry products to Dubai Including Zinzili. They are exporting avocados. We must add value yes but initially can we please do this. Urgently! It is very easy. Kenyans are even exporting mbuzi slaughtered next to the airport in Nairobi.
2. I was invited to Chatham House for a meeting. I first signed the condolence book as Queen Elizabeth was their Patron for 70 years. Secondly they showed me a quote they have written on the wall of Chatham House from my speech of 2012 when I spoke there. After this, we had discussions on how I see AFRICA and the challenges resulting from the economic crisis and how this affects democracy accross the continent.
3. Later in the evening I had a meeting with the Former Minister of Transport of the UK Paul Clark who is now Patron of the World Humanitarian Drive. He was accompanied by the founder of the organisation. They would like to work in Malawi. I have invited them to Malawi so they can see the opportunities that exist first,.
4. I had discussions with The President of Tanzania President Samia Suluhu Hassan. I wanted to learn more about their mining sector. As we already know, we have just learned officially that we are rich due to the discovery that we have the largest deposits of Rutile in the World. We can draw lessons from Tanzania. What the Magufuli govt did to make sure that outsiders do not take advantage of their mining industry. She has offered Malawi joint meetings in this regard. I will leave it to the President to take this offer or not.
I am truly grateful to our Embassy staff here in London who rendered support to me and my delegation and worked so hard to make our visit to the UK run smoothly. May God Bless you always.
In the pictures below; at Bird & Bird, at Chatham House and at World Humanitarian Drive.