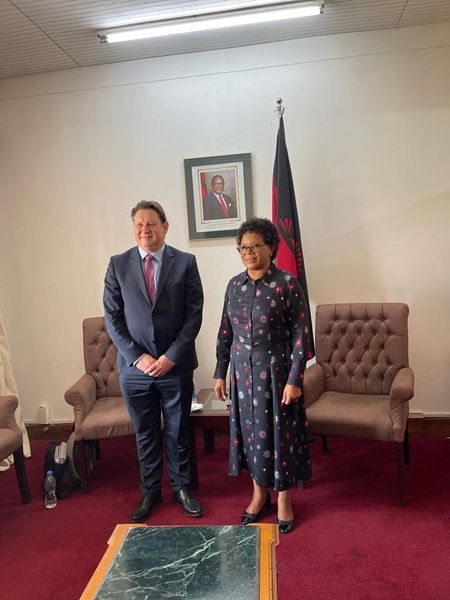 Honourable Nancy Tembo, M.P., Minister of Foreign Affairs of the Republic of Malawi, received in audience the Global Fund Country Team Mission to Malawi on 19 October 2022.
The minister welcomed the Senior Fund Portfolio Manager of the Malawi Portfolio, Mr Osian Jones and his delegation and thanked him on behalf of the Malawi Government for the continued support the country was receiving from the Global Fund especially in the fight against Tuberculosis, HIV/AIDS, Malaria and COVID-19. The minister also appreciated the Global Fund for appointing His Excellency Dr. Lazarus McCarthy Chakwera, President of the Republic of Malawi, as a 7th Replenishment Ambassador of the Global Fund resource mobilization. She noted that so far, the initiative had raised $14.2 billion, and Malawi had pledged $1million.
It was noted that the Global Fund had assisted Malawi notably in: 
▪ Donation of COVID-19 testing reagents and various PPEs that have since been distributed in various health facilities.
▪ Procurement of 76 ambulances and additional 41 vehicles for supervision and surveillance. The vehicles were handed over to the government through the Ministry of Health on 18th October, 2022, for distribution to various government health facilities.
▪ Donation of four (4) gas plants in the hospitals for onsite oxygen generation.
▪ Support during the height of the COVID-19 pandemic, including through the deployment of emergency response health worker teams in central hospitals who supported COVID response during the past 2 epidemic surges.
▪ Support towards the planned constructions of isolation wards at Mzuzu and KCH and renovations of isolation wards and laboratories for which contract procurements are underway.
▪ Drilling of 240 boreholes (COVID is a hygiene related pandemic) whose procurement has been approved by PPDA.
Mr. Jones indicated that plans were underway to approve the next three-year grant cycle beginning 2024 which would determine the next allocation for Malawi to help fight the three diseases.
Honourable Tembo expressed commitment that her ministry would continue to be a bridge between the Global Fund and relevant players in Malawi, particularly the Ministry of Health.